Introducing the NoBreaks Pooled Cowl
Posted by KELLY VAUGHN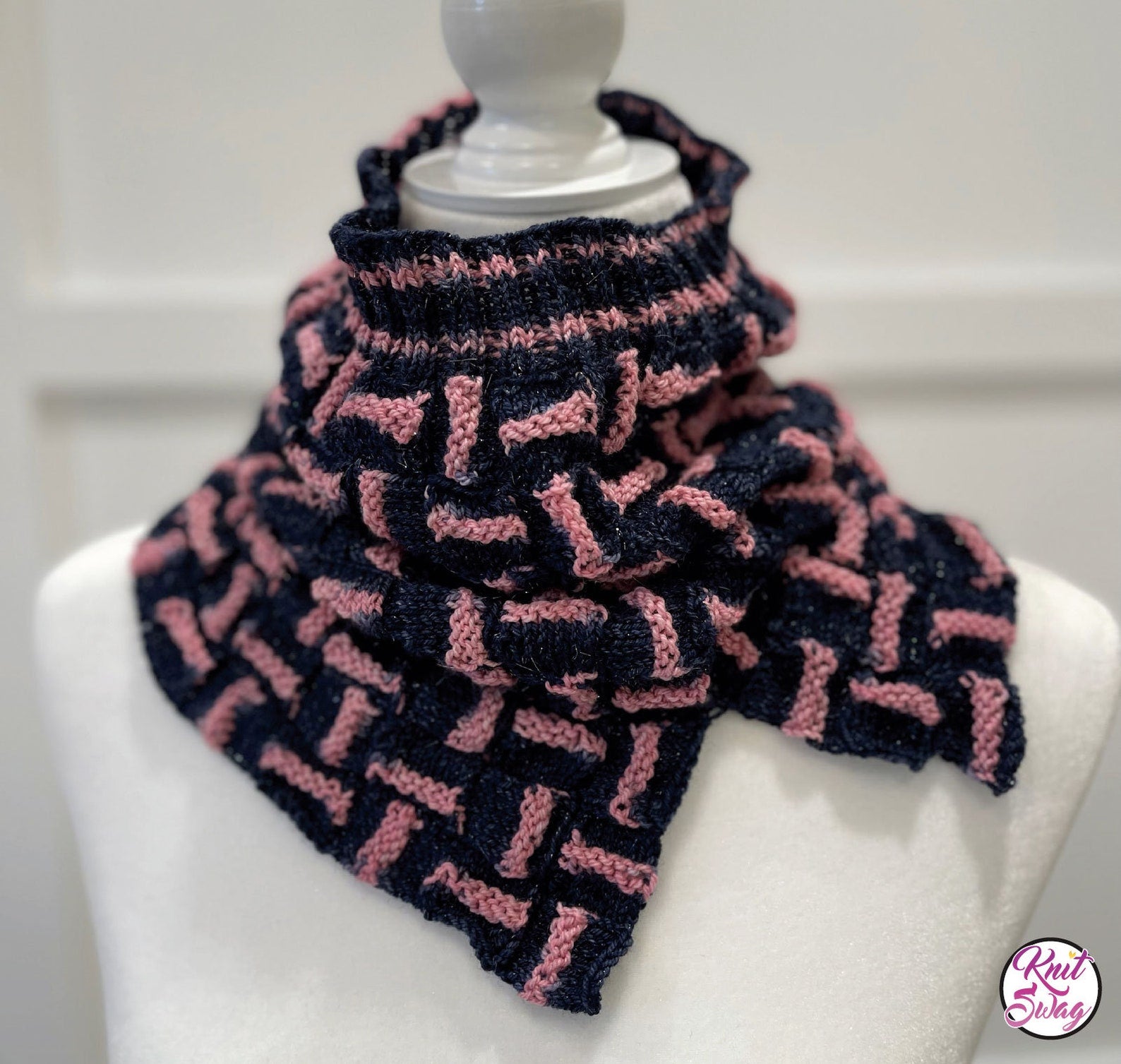 One of my good friends is a yarn dyer, whom I actually met through Etsy. We're bth avid knitters and she send me yarn to see what I'll make with it.
Awhile back, she sent me two skeins of this lovely navy blue and light pink dip-dyed stellia yarn. After a few months of it sitting on my yarn shelf,I dedicated some time to figure out the best way to use it.
You see, I like to have control over where my colors fall. I'm not a huge fan of random stripes. So I knew that to really showcase this yarn, it would require a very tight level of control. After a few attempts, I came up with the ides of knitted small, modular blocks, with the pink stripe right in the center of each block.
The beauty of this is that while there are indeed two colors in the yarn, they occur at a regular point in the yarn and so the position of them in each block is very consistent. ice it's as wide as needed, add some ribbing and you have a lovely cowl.
This pattern was inspired by Virginia Woods Bellamy's Number Knitting in several ways:
It uses a small (non-mitered square), as shown in the Baby Blanket on page 68.
It is worked counterclockwise, as shown in the Mulberry Bush Afghan on page 100.
It makes a point to not break the yarn. This is demonstrated in the Yarn Guide for Seamless Pants on page 189.
Indie Dying wasn't a thing yet back in the 1940's but I like to think that if Virginia could see my cowl design, she's be tickled.
Over the course of a couple of years, I have charted all of the original designs from Number Knitting. Now, whenever I make new charts for my own original designs, I use the same conventions that Bellamy came up with back in the 1940s. That include things like the gridlines, numbered units, the orientation of the units to indicate direction of knitting, and more. Working with my testers, I've also added additional clarifying instructions to help make my patterns easy to follow.
Would you like to try and knit this cowl for yourself? You can find it for sale here. You can find the FunDipped yarn for it here.
Collection 2019
Sale 70% Off
Title for image