Republishing Number Knitting
Posted by KELLY VAUGHN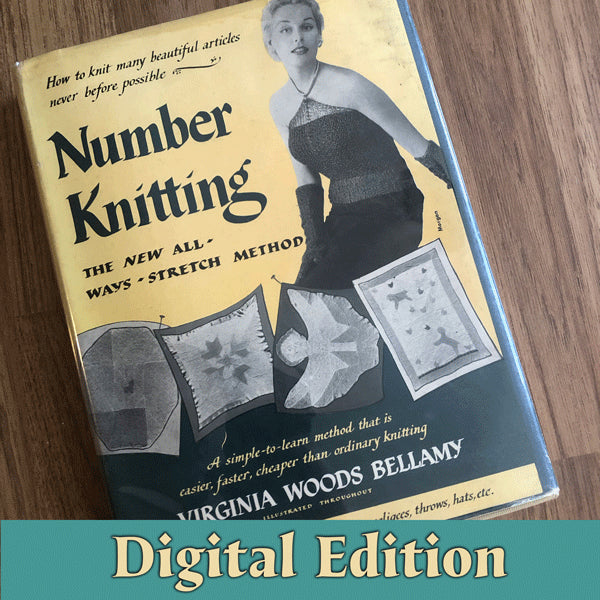 Number Knitting #1: My Quest to Republish "Number Knitting: The New All Way Stretch Method"
Since 2016, I have been working on republishing "Number Knitting." It is a massive undertaking, is taking much longer than I ever imagined it would, and is utilizing more of my graphic design, illustration and publishing skills that have ever been utilized on a single project in my 20+ year design career.
The book I'm working to republish is called "Number Knitting" The New All Way Stretch Method." Most knitters (even very experienced ones) have never heard of this book, because it only had one printing, and it the the only knitting book that the author ever wrote. So once it was printed, that was it! It is very hard to come by, and
if you can find a used copy for sale online
, it will likely fetch at least $250. But I have seen one for sale for as high as $900. 
But as this blog is still a graphic design blog, I'll keep all the really publishing-specific content regarding the book here on my blog.
Because I aim to document the process of recreating this book, I'll be sharing milestones along the way. Here are a few milestones thus far:
December 2015: Scanned in book (a library copy)
January 2016: Received my own purchased copy of the book!
January 2016: Began knitting the pieces in the book
February 2016: Submitted request to US Copyright Office for a copyright renew/transfer search
April 2016: Received word back from the Copyright Office that the copyright was never renewed or transferred. (So the original copyright protection expired in 1979.)
April 2016: Started knitting "Lambs and Butterflies" form the original patent application
Lambs and Butterflies pattern from original patent application
Are you interested in helping me knit the pieces from the book? Join us on Ravelry.
February 2021: Completed recreating all the charts from the book.
April 2021: Made complete digital version of the 1952 edition available for sale.
May 2021: Started actively working with test knitters at Yarn Pond to reknit the pieces from the book.
July 2021: Began touring yarn shops in the Upper midwest, sharing with them the joy of Number Knitting!
Collection 2019
Sale 70% Off
Title for image